Web page updated June 6, 2015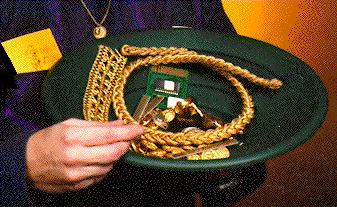 "Recover ABOVE GROUND, PURE GOLD for per oz!"
"Recover ABOVE GROUND, PLATINUM for per oz!"

Read Famous Treasure Hunter/Author, Andy Sabisch reviews Megan Rose's gold kit

Welcome to THE most reliable, up to date information source
as well as direct answers to direct questions via e*mail on the internet.
If you want to know where to look, and what to look for
how to test to see if an item is really gold or silver, as well as how much to pay for item(s)...
If you want to know how to recover the gold or silver or PLATINUM after you acquire the item(s)...
If you want to learn about alloyed gold or plated gold recovery,
or pure silver or plated silver recovery,
or electronic, catalytic converters or other discarded platinum and PGM plated recovery,
and how to turn THEM into immediate cash anytime you want...
THEN you've come to the right place!!!

Yes, there is a gold kit, a silver kit, and a platinum kit
you can Order any and all now,
such as Thrift Store Prospecting, the GOLD kit, this very day, and get started!!!
Pen Press is proud to be a merchant using Megan "YellowChick" Rose answers just about all your questions
for the do-it-yourself, gold enthusiast types.
Hers is THE premier, above-ground, discovery/recovery of PURE GOLD manual ever tucked into a kit!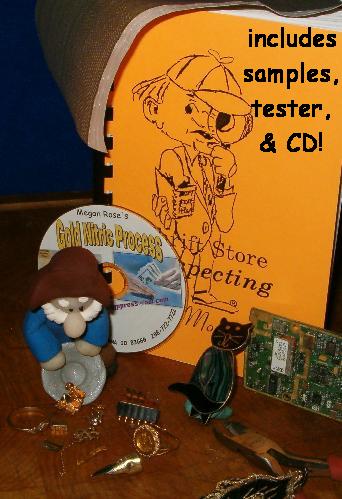 Now with NEW HOW TO SAFELY USE NITRIC CD!




************************
www.goldplatinumtutor.com accepts checks and money orders.
$94.50 includes shipping for continental USA.
Checks will be held until they clear.
For credit charge use using PayPal, and for Outside continental USA, ask for an email invoice,
which will include necessary minimal additional shipping charge.
telephone 1-208-722-7722 or
email:
penpress@goldplatinumtutor.com


$94.50



There are approximately 117 full-time gold recyclers in the USA.
And believe me, we don't get it all!
Not by a long shot!!!


This is the ONLY BOOK which teaches others how to find CHEAP GOLD.
Color illustrated, our How-to Manual comes complete with SAMPLES PLUS a gold tester, and a STEP BY STEP Color CD with one of the cheapest methods photographed by Megan
(c.1990, updated 2013)
to help you do the same!
Author MeganRose perfected ANOTHER method for finding gold ABOVE ground--true urban gold mining--for
or less!
Find it, gather it, get it refined with minimal tools.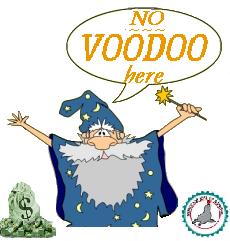 DID YOU KNOW 18,500,000+ gold oz were globally discarded above ground in 1998?
Respected Gold Fields' Mineral Report, contains an even larger number!
It now stands at over 53,000,000 discarded and recycled gold ounces as of June 30, 2010
That's an HUGE increase of over in approximately 110 months.
Over 3,000,000 oz of discarded gold is in the USA.
Where's the rest of it? Britain? France? Germany? Japan? Hong Kong? Australia?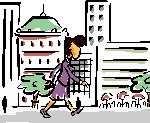 Any place where industrialized nations use gold!
*-*
Tell anyone who wants cheap gold to put a Bookmark right here. Above ground, cheap, already refined once gold, true urban gold mining, can be found on the beaches, in the streams, or when scouring garage sales, flea markets, salvage & surplus outlets, & even dumps.
*-*
Order the color illustrated kit, with manual, teaching samples, tester, and much more.
Now with Megan Rose's NITRIC PROCESS CD




Advanced Goldbug Tools are also available.

Want to know more about Ms. Megan's 2 Parter-Platinum Recycling/Refining series? With or without wet solvent extraction Chemistry with small footprint?
Yes, show me more about making money with Platinum!!!!

Order the color illustrated manual & kit.

Order the color illustrated CATALYTIC CONVERTER Recycling
4 PART kit to accompany Platinum Recycling Made Easy wet solvent chemistry protocols

Famous Treasure Hunter/Author, Andy Sabisch reviews Megan Rose's books/kits...yes BOTH!!!

Order and Shipping Information



For approximately $20 in cost, you can recycle gold. Even less expensive, you can nibble gold and sell it to the author. Contact Pen Press to learn how. Andy Sabisch has reviewed both THRIFT STORE PROSPECTING gold kit and PLATINUM RECYCLING MADE EASY in his column in the Lost Treasures magazine. Thrift Store Prospecting gold kit invites the reader to investigate sources for that gold to recover, including: gold in computers, electronic gold, electronic gold scrap, gold trim, gold jewelry, gold connectors, collectible gold, gold leaf, gold plate, gold paint, costume jewelry, karat gold, scrap gold, and six pages more, plus identifying the methods of general gold recovery.

In addition to Thrift Store gold Prospecting, Ms. Megan has written PLATINUM RECYCLING MADE EASY, which deals with four of the Platinum Group Metals (PGMs), Platinum, Palladium, Rhodium, Iridium, in a small foot print (smallfootprint) solvent extraction method. For "clean" metals, this takes you step by step through the process to sellable metals.
There are seven pages of locatable items with one or more PGMs.

Another necessary adjunct to platinum recycling for those wanting to do "dirty" platinum metals, such as catalytic converters, Ms. Megan has developed an additional resource necessary to help one locate, evaluate, liberate, and "preparate" those materials so that the wet solvent extraction method will work with these materials. That manual is called KEEP THE PLAT FROM THE CATS. This manual is kept up-to-date, and has up-to-date prices paid by buyers purchasing cats from you, if you do not want to do the chemical extraction yourself.



Ms. Megan is an intelligent and gifted woman who has applied the priciples of chemistry and gold mining as she researched for years to develop this small footprint process, initially for the hobby miner to do during the winter months when one cannot get out into the streams, a true urban gold mining process.
She is familiar with all and comfortably speaks to and about her field of experience, using all the jargon and buzz phrases: nitric, cyanide, cyanide tumbler, filtering cyanide, electroplating, treasure hunting, cheap gold, gold plating, demanufacture, demanufacturing, gold refining, cupel, cupelling, cupelation, crucible, firing, gold assaying, titration, titrate, cyanide leaching, gold miners secrets, avionic scrap, dental gold, gold molds, gold test kit, gold scales, gram scales, gold conversion chart, strike tester, mercury, amalgamation, amalgam, lead envelope, melting gold, metal detecting, gold metal detecting, gold buyer, buying gold, fake gold, gold wire, gold thread, gold buttons, gold salvage, alluvial gold, elluvial gold, Armstrong nugget (located in Baker County, Oregon), second-hand gold, gold kiss, gold king, gold mold, gold cons, concentrates, black sands, black sands recovery, microscopic gold, micron gold, invisible gold, white gold, yellow gold, rose gold, green gold, and of course, placer gold, bench placers, stream placers, gold discovery, and general gold recovery.

Pen Press Prices are good until September 1, 2015
All sales are final.